Latest posts by Jyoti Dedhia (see all)
We have heard of lot of grandmother or relatives who go through the process of surrogacy to help their kins with the babies they could not carry. Now technology has evolved to such an extent that lot of couples are opting for fertility treatments to be blessed by child.
Recently we came across a news that a 64 year old woman had given birth to a healthy baby. This news garnered many eyeballs and views. The story goes like this:
Delhi couple Jagadeesh Meena and his wife Chameli Meena, lost their 31 year old son in an unfortunate accident. Their world was shattered and they did not have any support then. That's when technology came to their rescue. They did the unthinkable. They decided to have another baby through IVF, and voila! They were blessed with a healthy baby boy this march.
IVF is a technology which helps the couple to deliver a baby through In Vitro Fertilization. This is the process of fertilization by extracting the egg and sperm sample, then manually mixing both in a laboratory. The fertilized egg is then transferred into patient's uterus, which can lead to a successful pregnancy. The Delhi couple was lucky, that IVF worked for them, but one cannot overlook the risk considering the age factor.
Meenas could not contain their excitement. Becoming a parent once again, after losing their only child must be a blessing. On being asked, how he plans to keep himself fit so that he can raise the child? Jagadeesh Meena replied that both he and his wife undergo health check ups so that they remain healthy for the baby.
However the doctors in Delhi have another side of the story. Meenas underwent the treatment in Delhi IVF and Fertility center. Dr. Anoop Sethi, who did their treatment, said that it is not surprising anymore, when you hear older women opting for IVF. He further quoted that last year, he had a patient, Daljinder, who was 72 years old, delivered after 42 years of marriage.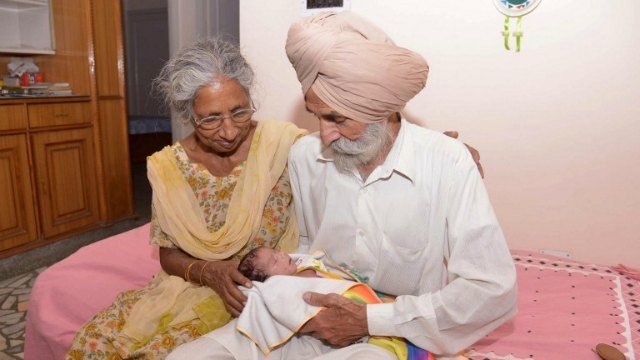 This brings back to our discussion as to how IVF is safe at such old age?. Doctors point out that a women should have her children before the age of 40. After a certain age, a woman's body can develop unnecessary complications and is not fit and healthy to bear a baby. And to think of the baby, it is not fair on the part of the child too. The parents may not live long enough to raise the baby and be there for him, when he grows up.
One important fact that has come up is that Indian Council for Medical Registry (ICMR) has strictly stated that couples opting for IVF should not be 100 years of their combined age.  But these days, where money is thrown, doctors forget the laws.
Couples who are more than 50 years definitely need counseling with regards to IVF. Raising a baby is not an easy task. Parents need strength and a healthy body to raise a healthy child.